From June to October, the Museum of Jewish Art and History (mahJ) in Paris presented an exhibition of the Jewish artists of l'École de Paris, the famous French artistic movement of the interwar period. The exhibition was based on Hersh Fenster's work "Our Martyred Artists" published in 1951 in Yiddish and which, for the occasion, was translated into French for the first time thanks to the mahJ. A true memorial to the artists who died during the Shoah, Fenster's book reveals the place of Jewish painters in the Paris art world of the Roaring Twenties. In addition to Fenster, the art dealer Nadine Nieszawer has also worked for several decades to make these martyred artists known. Paul Salmona, current director of the mahJ, and Nadine Nieszawer evoke these artists of the "lost shtetl of Montparnasse".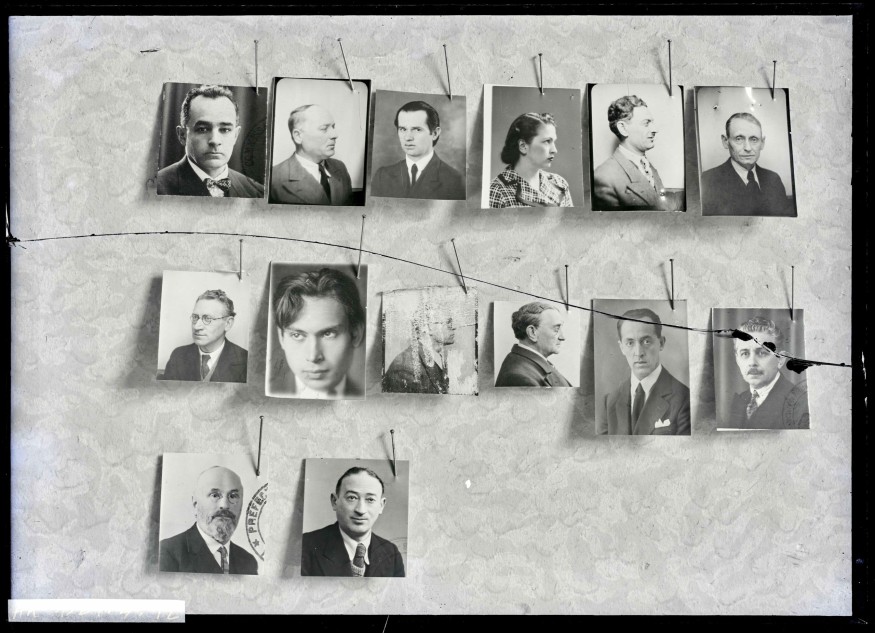 Do you know the "French painting" of Chagall and Epstein, Feder and Krémègne? In Warsaw, between the wars, this is how many apprentice artists described the work of their elders who had gone to seek the beauties of Gaul: They had become French painters. But in Paris, how were they seen? As Jewish painters, no doubt. But what about their art–did they think it was Jewish? Is there such a thing as Jewish painting, just as there is Jewish music?
From Jewish Artists of the School of Paris 1905-1939, edited by Nadine Nieszawer, Les Étoiles, 2020 for the third edition[1]:
" l'École de Paris is a term coined by the art critic André Warnod in 1925, in the magazine Comœdia, to define the group formed by foreign painters in Paris. The École de Paris does not designate a movement or a school in the academic sense of the term, but a historical fact. In Warnod's mind, this term was intended to counter a latent xenophobia rather than to establish a theoretical approach.
It must be said that at the time artistic criticism did not hide its nationalism. The artistic reviews expressed contempt and fear in the face of the increasingly important place taken by foreign artists, particularly Jews, in the French artistic landscape. Louis Vauxcelles wrote the following representative excerpt in Le Carnet de la semaine in 1925: "A horde of barbarians has rushed to Montparnasse, descending [on the art galleries of] rue La Boétie, coming from the cafés of the XIVth arrondissement, uttering raucous German-Slavic cries of war … Their culture is so recent! When they talk about Poussin, do they know the master? Have they ever seen a Corot? Or read a poem by La Fontaine? These are people 'from elsewhere' who ignore in the depths of their hearts the respect for what Renoir called the sweetness of the French School – the tact that is the virtue of our race. […] "
The same Louis Vauxcelles, a prolific critic of Jewish painters, wrote monographs for the publisher Le Triangle, in the collection Jewish Artists. In one such 1931 monograph, devoted to Marek Szwarc, we read: "…like a swarm of locusts, an invasion of Jewish colorists fell on Paris – on the Paris of Montparnasse. The causes of this exodus: the Russian revolution, and all that it brought with it of misery, pogroms, exactions, persecutions; the unfortunate young artists take refuge here, attracted by the influence of contemporary French art. (…) They will constitute [an element of] what the young critic will call the School of Paris. Many talents are to be considered in this crowd of metèques."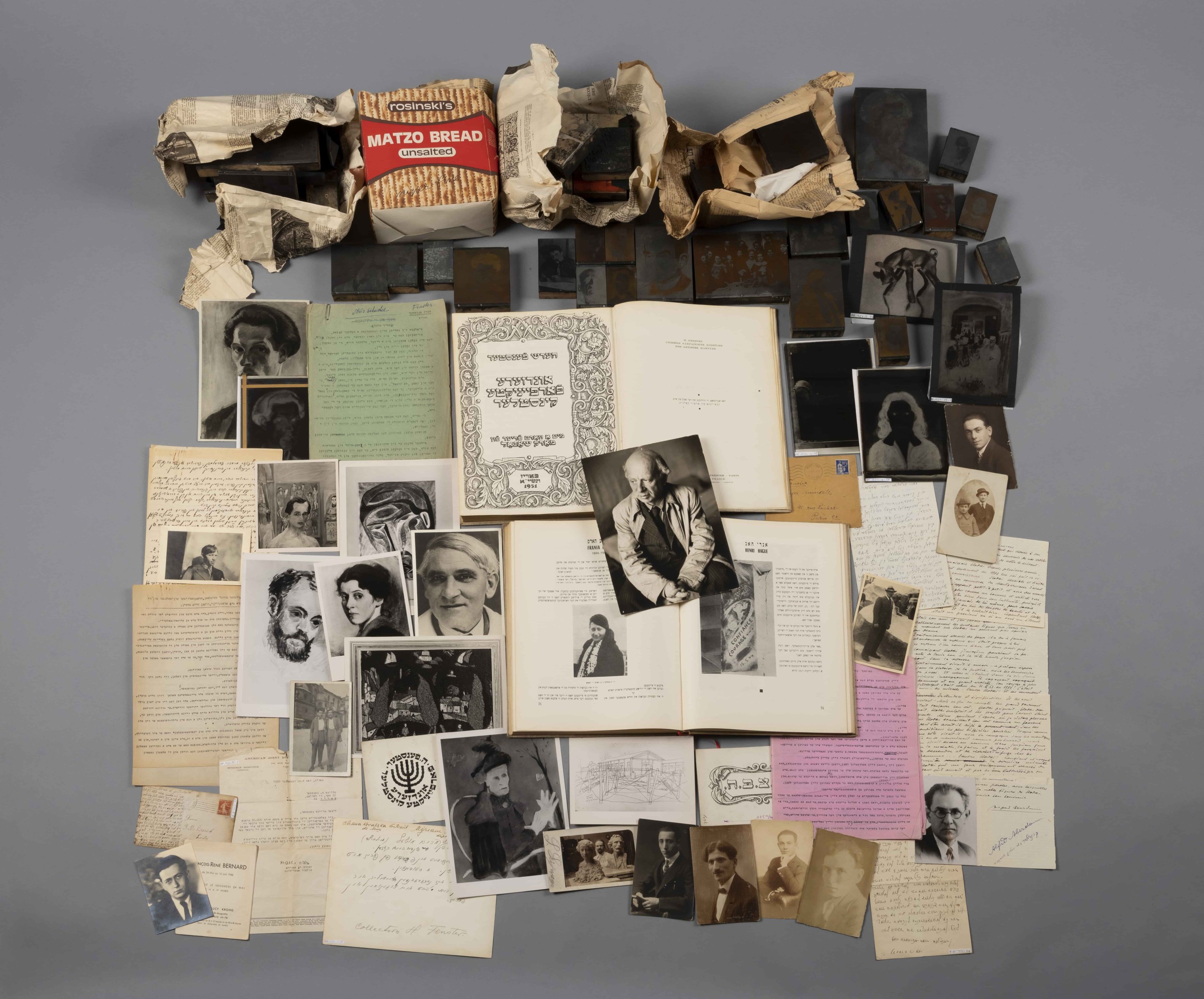 Without being an artist himself, Lazar Lissitzky wrote about the Jewish painters who formed the bulk of of l'École de Paris: "We were a whole generation, from the children of the heder to the Talmudic students, exhausted by so many years of analyzing the texts alone. Taking up pencils and brushes, we began to dissect nature, but also to dissect ourselves. Who were we? What was our place among the nations? What about our culture? What was our art to be like? All of this was sketched out in a few small towns in Lithuania, White Russia and the Ukraine, only to continue in Paris.[2]" [1]
Many of the Jewish artists of l'École de Paris who populated the cafés of Montparnasse during the Roaring Twenties disappeared during World War II–exterminated. After the war, Hersh Fenster wrote their story in a book published in 1951 in Yiddish, Undzere Farpaynikte Kinstler. A special exhibition, "Hersh Fenster and the Lost Shtetl of Montparnasse," at the Museum of Jewish Art and History accompanied the publication of the first French translation of Undzere farpaynikte kinstler by Hazan Editions and the mahJ, under the title Nos artistes martyrs[3], in connection with the exhibition "Chagall, Modigliani, Soutine… l'École de Paris , 1905-1940," presented in parallel and devoted to the Jewish artists of the School of Paris. — Macha Fogel
*
A milestone in 20th Century art history rescued from oblivion: Hersh Fenster's Undzere farpaynikte kinstler, by Paul Salmona, director of the mahJ :
The recent French translation of Undzere farpaynikte kinstler (Our Martyred Artists) remedies a triple injustice: the oblivion into which a generation of artists deported or killed during the Occupation were subsumed, the lack of awareness of the cultural richness of Yiddish-speaking emigration in interwar Paris, and the anonymity of the text's author, Hersh Fenster (1892-1964), a journalist and writer from Galicia who moved to Paris in 1922.
Self-published in Yiddish in 1951, at a time when the historiography of the destruction of the Jews of Europe was still in its infancy, Undzere farpaynikte kinstler evokes the lives of ninety-four artists of l'École de Paris whose existence was cut short by the Occupation and the Shoah. An art book and a memorial, Undzere farpaynikte kinstler lists creators who have mostly been erased from memory, and whose works themselves have sometimes been destroyed. Among them, only Otto Freundlich and Chaïm Soutine have known glory. Some, such as Jean Adler, Naoum Aronson, Erna Dem, Léon Droucker, Henri Epstein, Adolphe Feder, Georges Kars, Moïse Kogan, Léopold Sinayeff-Bernstein, Paul Ullman, Zelman Utkès, Abraham Weinbaum, and Joachim Weingart are present in French public collections thanks to a few purchases by the State, but their work remains invisible. The others remain all but unknown to most art historians. The harsh treatment that posterity has given them is not due to the quality of their work but simply to their disappearance. We can thus measure the importance of Fenster's work. Undzere farpaynikte kinstler is a true reference work for anyone interested in the first School of Paris, yet it was only available in French in extracts and was only read in its entirety by a few Yiddish-speaking art historians.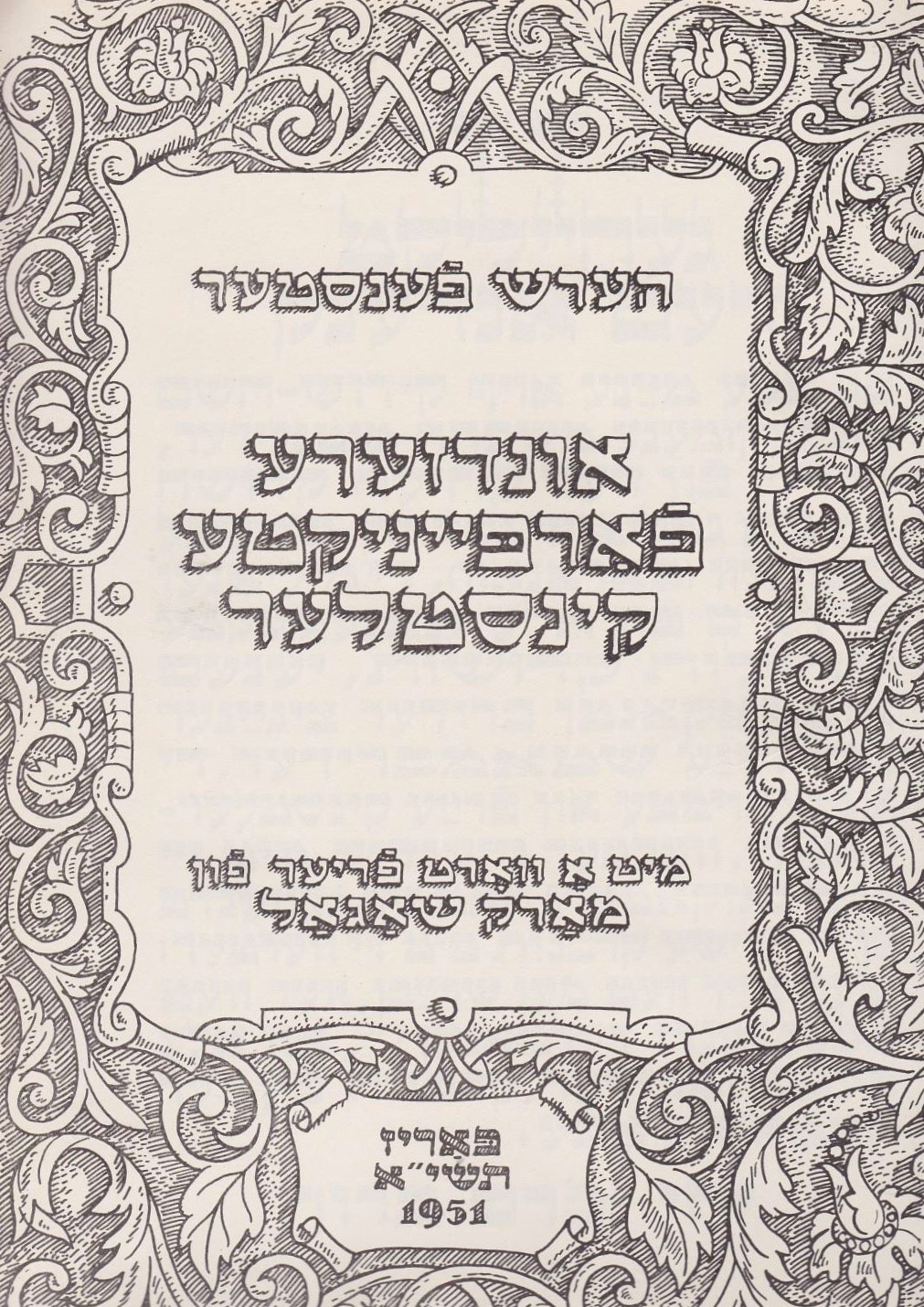 In addition to the artists "swept away by the storm" whose existence he recalls, Fenster brings to life in the Paris of the interwar period a little-known Jewish artistic community which, after the Liberation, was no more than a "vanished world", like the Judaism of Eastern Europe. Settled in the city that was then the world capital of art, it had its rituals and its places, not the least of which was the Friendly Home (Dos yidishe vinkl) opened at 41 rue Richer by Fenster in 1939, with the aim of welcoming refugees fleeing the Reich. Paris was then home to a Jewish emigration from Central and Eastern Europe, swollen at the turn of the century by the pogroms perpetrated in the Russian Empire. This group was hit hard by the anti-Semitic measures of Vichy and by deportation; the many artists it included were no exception.
Finally, this publication pays tribute to Hersh Fenster, whose life and work are unknown in France: as a preamble to Fenster's text, Natalia Krynicka evokes his socio-cultural activism, Pascale Samuel focuses on his relations with artists, and Judith Lindenberg puts Undzere farpaynikte kinstler into perspective with the "books of remembrance" published in France by the "native societies" of the shtetlekh of Eastern Europe.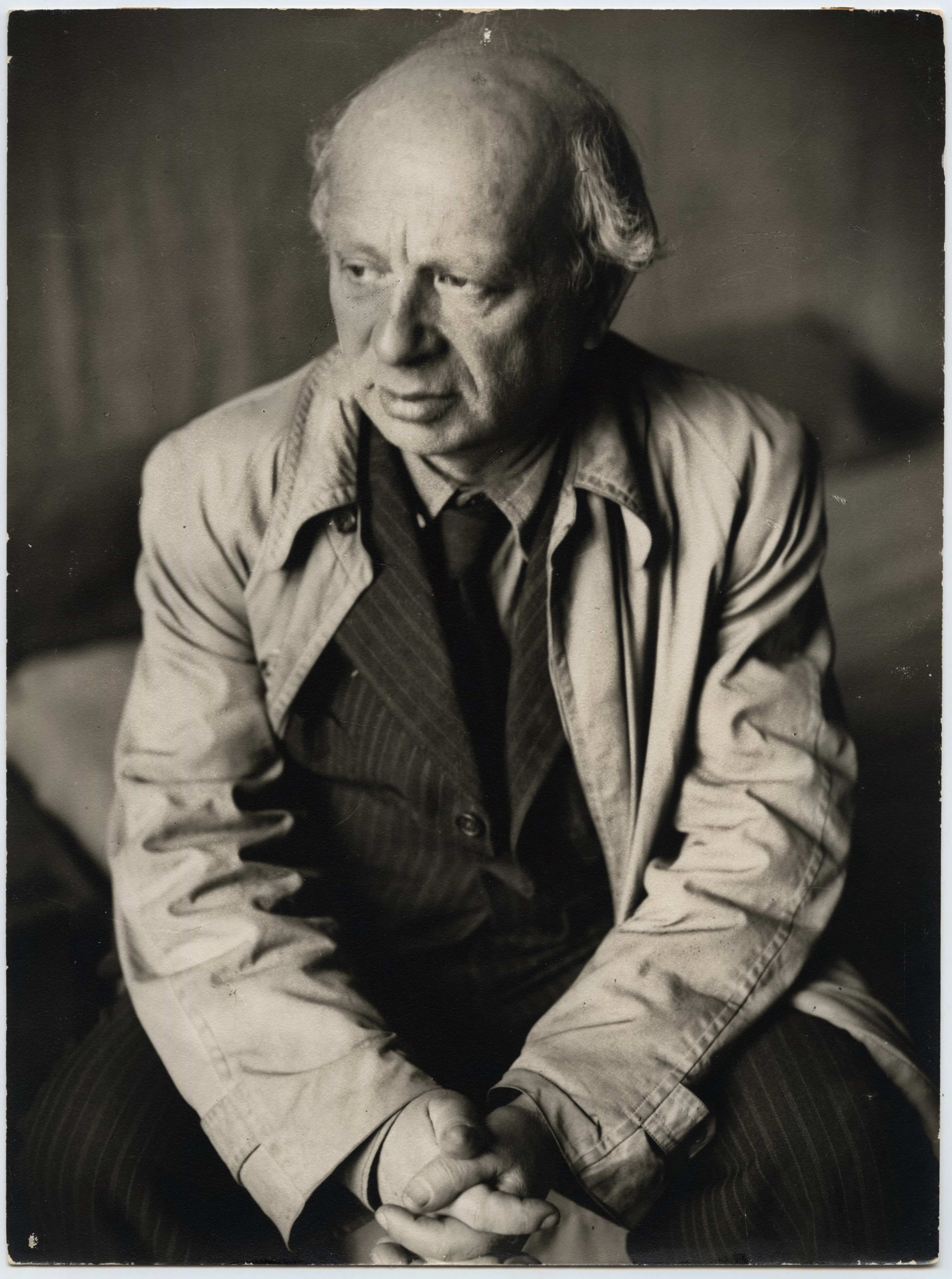 Completed five years after the war and intended as a memorial to its lost, Fenster's work does not conform to the current canons of art history writing, but it contains a wealth of information and a rich iconography in black and white, which needed to be entirely renewed to adapt it to the standards of four-color art publishing. Juliette Braillon-Philippe has thus carried out an exceptional research work, taking into account the low notoriety of these disappeared artists, while completing the biographical data of the original edition. But this editorial undertaking could not exhaust the subject. We also hope that this translation will inspire young art historians to undertake in-depth research on these creators who have been erased from memory. A similar historiographical approach should be taken to the life of Fenster himself, who lacks even an entry on Wikipedia.
For the Museum of Jewish Art and History, the translation and publication of Fenster's text, by encouraging a return to these artists, has contributed to ensuring them a new place in the collection. For apart from Naoum Aronson, Étienne Farkas, Adolphe Feder, Otto Freundlich, Jules Gordon, Jacques Gotko, Moïse Kogan, Jacob Mącznik, Joseph Raynefeld, Sigismond Sigur-Wittmann, Marcel Slodki, Chaïm Soutine, Rahel Szalit-Marcus, Abraham Weinbaum, Joachim Weingart, Léon Weissberg, and Zber–most of whom are represented by only one or two works—the majority of the artists mentioned in this book are absent from the mahJ's collections.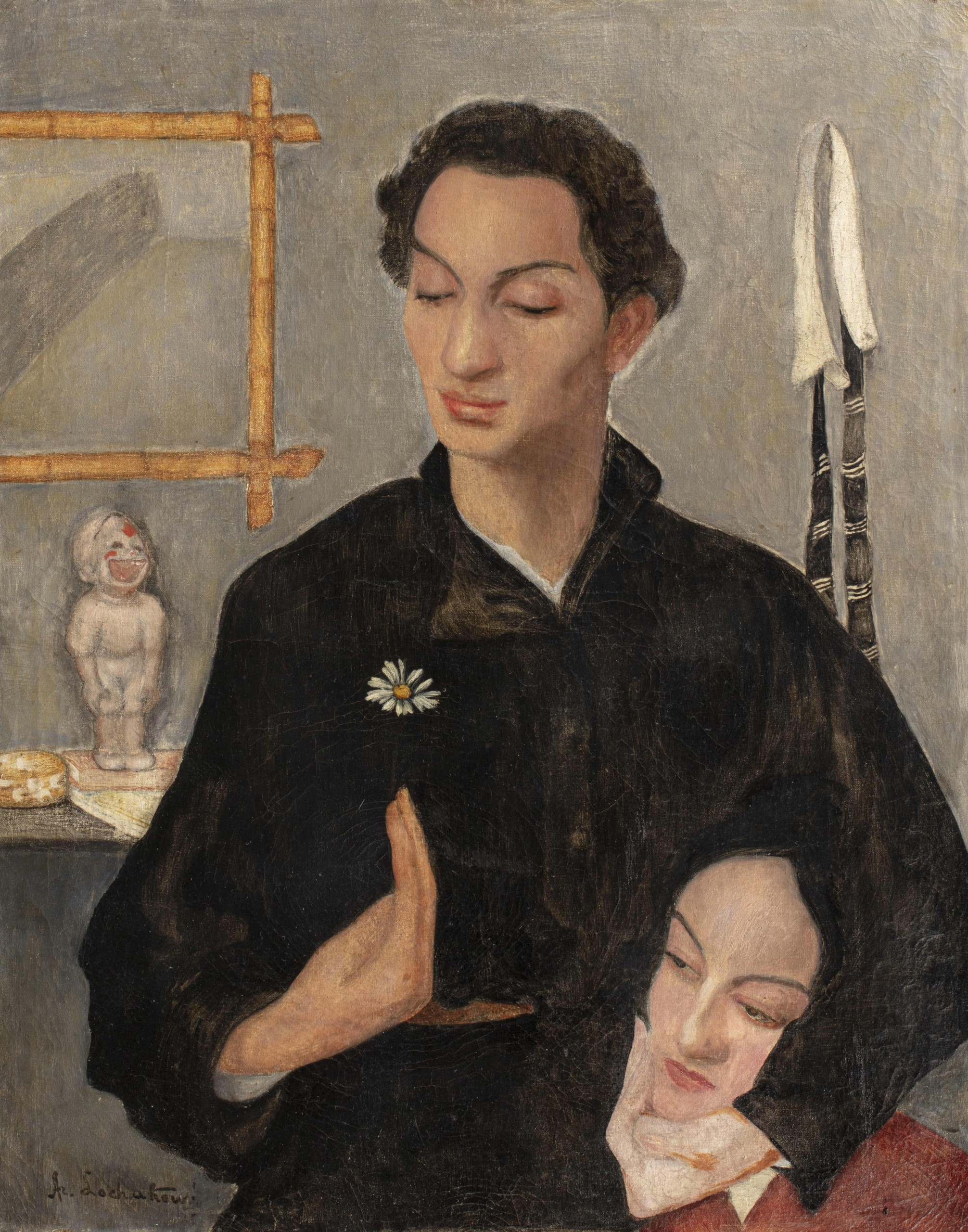 Thus, seventy years after the publication of Undzere Farpaynikte Kinstler, Fenster's work gives an inflection to the museum's acquisitions; the museum is now committed to gathering remarkable examples of the production of this lost generation, like the portrait, acquired in 2020, of David Knout by Ary Lochakow, an artist who was previously absent from French public collections — Paul Salmona
*
Hersh Fenster died in Paris in 1964. In his absence, it is a woman who will watch over the memory of the martyred artists of l'École de Paris. Nadine Nieszawer is an art dealer and a specialist of the school of Paris; she edited one of the reference books on the subject (from which are drawn the extracts above). Above all, she has devoted many years of her life to tracing the history and researching the paintings of these Jewish painters of the Paris School.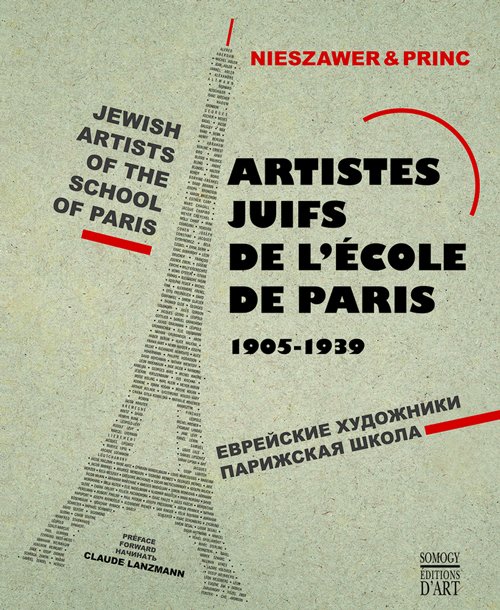 Interview with Nadine Nieszawer:
Nadine Nieszawer: The School of Paris refers to the art of artists exiled in the French capital between 1905 and 1939. Picasso invented cubism there, Matisse invented fauvism… Paris was at that time the international laboratory of art. Many of these exiled artists were Jewish–close to 500, it seems. They shared a common history. I see them as young women and men who left their countries, defying the prohibitions, and arrived in Paris without a penny, with only an address in their pockets. Their shared misery and the hardships of their destinies unite them. From an artistic point of view, I find they have one thing in common: their clumsiness. They discovered art a little late. As children, they did not admire the stained glass windows of churches. In my eyes, their paintings are painted "in commas": they were inspired by the floating Hebrew letters they had learned at a very young age. In France, it is not acceptable to speak of "Jewish painting". In the United States, it's not a problem, but French history makes it almost impossible. In the 1920s and 1930s, as long as these painters were alive, it was not an issue: there was an amicability toward Jewish artists in Paris. It was considered normal. In the cafés of Montparnasse, we spoke Yiddish. We've forgotten about it, but this world existed.
MF: Why, when you were a young art dealer in the 1980s-1990s, did you become interested in these unknown painters?
NN: My sister and I lost our parents early. They had a flea market and my mother, who came from Tunisia at a very young age, also had a small antique store in the Saint-Paul district–at the time, we didn't say "Le Marais". My father was an orphan of the war; he lost his parents during the Vel' d'Hiv round-up and had then managed on his own by selling chamois and sea sponges. With his friends, after the war, they frequented a café in Saint-Paul, Chez Galidi. Some ragpickers came by to drop off their treasures and my father became their "painting expert". They were modest people. I was born in 1959, I always followed my father to the auction rooms. We used to hunt for paintings at the flea market. He had a good eye and immediately recognized a painting by one of these painters he called "the yids". At home, he would read their biographies in a book written in Yiddish by Hersh Fenster and another, also in Yiddish, by the art critic Chil Aronson. Then my father had a gallery near Drouot in which he sold 19th century paintings, fire art. At the same time, he collected these "yids", these "little masters" as I call them. But these paintings were stolen after his death, in circumstances that I prefer not to mention here. So I wanted to make a dictionary—to be interested in these Jewish painters is to find the heritage of my parents. I took over my father's gallery and I looked for books on these painters, to inform myself, but I did not find any. I had even lost this book in Yiddish by Fenster that my father used to read and that I finally found… at the flea market! In short, I decided to follow in the footsteps of these artists.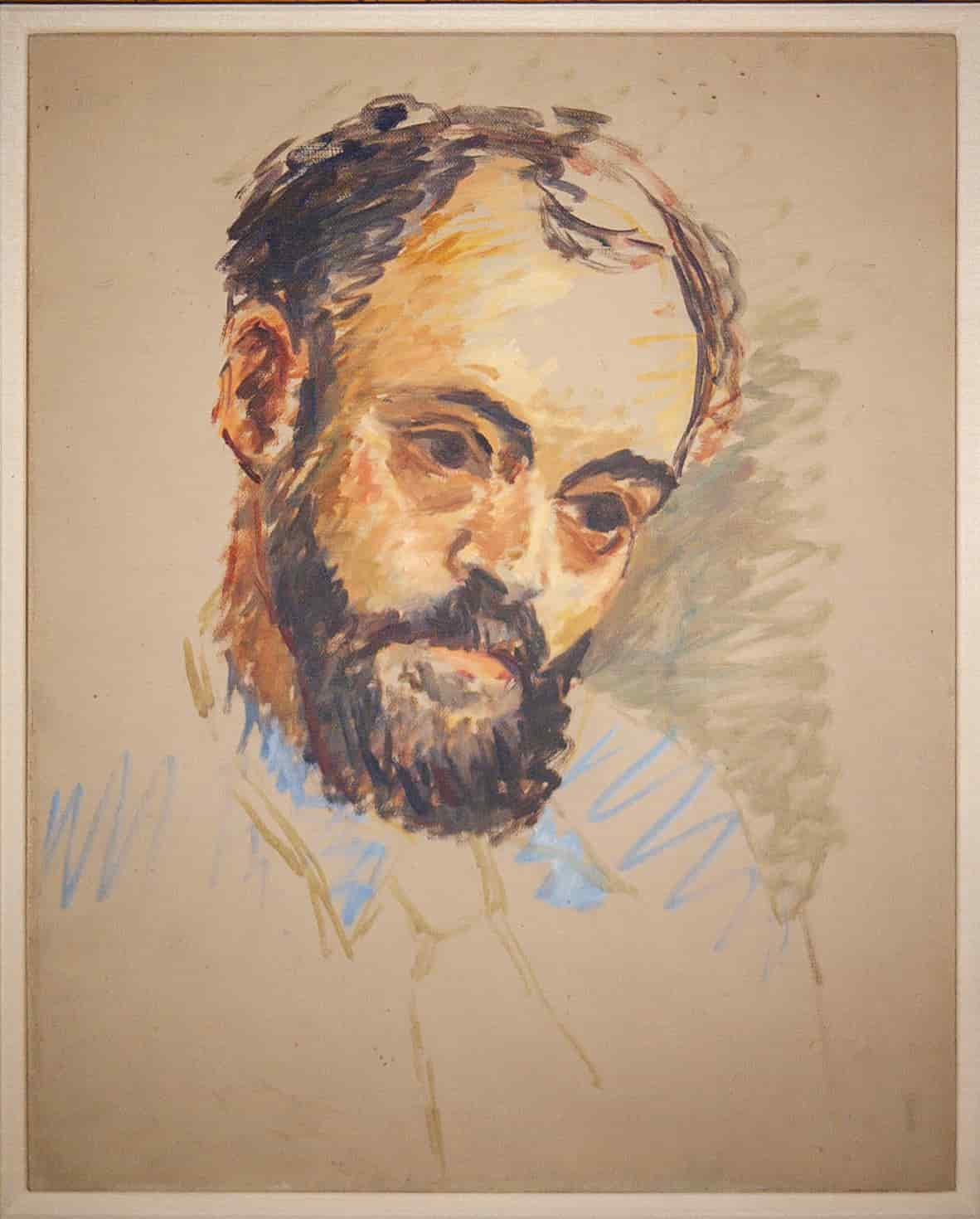 MF: How did you meet the descendants of these painters?
NN: I looked up their families in the phone book, quite simply. I wrote them letters; I met them. At the same time, in the late 1980s, a friend introduced me to Paul Fogel, a young engineer who spoke and read Yiddish. Every Tuesday, at my place, we started to meet with friends, including an art historian… Anyone who was interested knew they could come by. Fogel would come and translate the notes from Fenster's book, which I had found, and from Aronson's Chil, which I got from my father. We would discover the lives of these painters, these men and women. Aronson was very lyrical–his collection, published in 1963, was composed of articles he had written throughout his life for the Yiddish press. He had published Scène et visages à Montparnasse, in Yiddish, about the history of the neighborhood and had also devoted articles and books to Italian and Polish, American and Russian painters in Paris. He told many anecdotes. As for Fenster, he dedicated his collection Nos artistes martyrs to the murdered Jewish painters of the École de Paris. Some of his notes were detailed, others very succinct. Sometimes, on those Tuesdays, listening to Fogel translate the Fenster, we were all sad. At the same time, as I said, I met the descendants of these artists. The daughter, the last wife… That's how we got to know these artists. I was also looking for a family history for myself that I didn't have; I found it by meeting these families, we consoled ourselves together.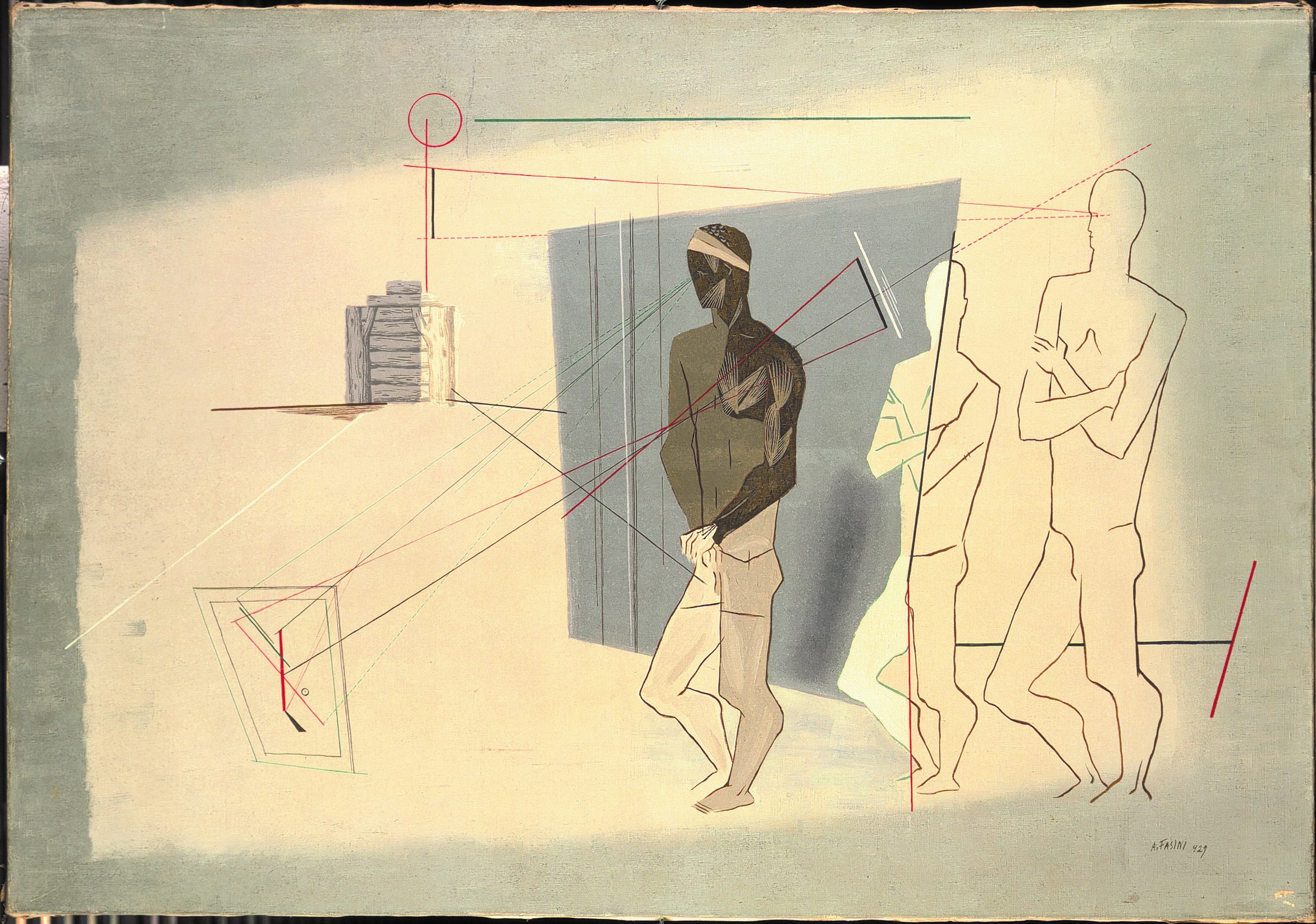 MF: You then became an expert on these Jewish painters of the School of Paris, whose value has risen sharply on the art market. Did you foresee this?
NN: I was appointed an expert by the French Union of Art Experts. In order to sell the paintings of these "little masters", whose families I had met, I wanted a beautiful auction room. As I said, I was familiar with the mechanics of auctions. I chose a good auctioneer who founded Artcurial. What I didn't foresee was the fall of the Berlin Wall and the collapse of the Soviet Union. The countries of Eastern Europe wanted to recover their own heritage, which was not communist; they turned to these Lithuanian, Polish, and Belarusian artists who had reached Paris. The Russians also bought a lot; today, their oligarchs are looking for the great masters. At present, I have a website that works very well. People often send me requests for estimates. I would say that I have fulfilled my mission. One of my sons and his wife, Boris and Déborah Princ, after having worked with me, have set up their own business in the art market. My other son, Arthur, specialized in the expertise of sculpture. I have passed on my father's profession. Today, I am preparing a graphic book on his history. — Interview by Macha Fogel
---
Paul Salmona / Macha Fogel
Notes
| | |
| --- | --- |
| 1 | The second edition was published in 2015 under the title Jewish Artists of the School of Paris 1905-1939 in a trilingual edition by Somogy éditions d'art. The first edition was published in 2000 under the title Jewish Painters in Paris, School of Paris, 1905-1939 by Denoël. |
| 2 | El Lissitzky, Rimmon/Milgroim, No. 3, Berlin, 1923 cited in Histoires des artistes Juifs de l'école de Paris 1905-1939, edited by Nadine Nieszawer, Les Étoiles, 2020 for the third edition. |
| 3 | Hersh Fenster, Nos artistes martyrs, translated from Yiddish by Nadia Déhan-Rotschild and Evelyne Grumberg, Paris, mahJ-Hazan, 2021. |