Sergey Lagodinsky is a German politician (The Greens) of Russian Jewish origin, member of the European Parliament since 2019. "We have all been attacked" was published in the Frankfurter Allgemeine Zeitung a few days after the Hamas attacks. In it, he expresses his concern when, in the face of "terrorists [who] destroy human bodies", he sees, at the heart of democratic Europe, "indifferent neighbours, discreet silencers, cold relativists and all those, many of them, who are too comfortable where they are to seriously confront the new reality".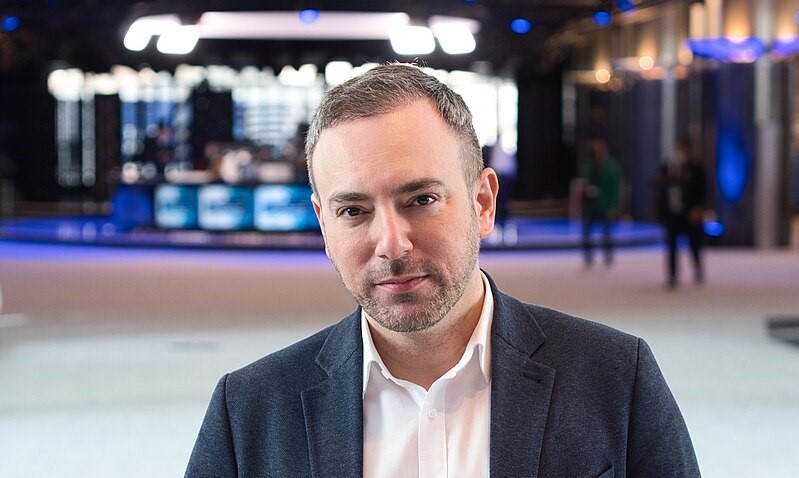 I'm sitting in Japan, staring into the sun. Behind me, the UN World Forum is discussing the fragmentation of the digital world. In front of me, a bird of prey circles over Tagarkaike Park. Towards the sun lies Kamchatka. Siberia is much closer than Brussels. If you zoom out towards Europe on the map of the region, the Sea of Japan looks like a puddle.
On the other side of the water there is another life. Vladivostok. 950 kilometres away – a life I would have had if I hadn't left thirty years ago, and if my family had been sent to Siberia seventy years ago on one of the freight trains Stalin had prepared for the Jews. But Stalin died first. And I left. To Germany.
Ironically: it's precisely in Germany where I've been living a Jewish dream for the past thirty years. Freedom, democracy and the evidence of a society built by everyone together. I'm lucky enough to be able to cobble together from the particulars of my biography what is common to us all. Sometimes I look at my European life with disbelief. How likely was it that I would stumble across this little window into history? It's like walking between two trains about to collide, between two bullets, between two massacres. The Shoah didn't prevent me from being born. My Soviet childhood did not disfigure me. The moral decay of Russia did not make me an accomplice of the new imperial hangman.
No, something quite different happened: perestroika opened my eyes, and it's as if it also opened my skull. Since then, I've been walking around with this fontanel open, like an eternally reborn democrat, with a smile of gratitude on my lips: "Thank you for this very personal chance in history – my life in a democracy". My fontanel of freedom shines like a yarmulke on my head. The new Judaism is our democratic chance.
When we left at the time of the USSR, only a few stayed. Some of the family now write to me from Israel. They write from bomb shelters, they write from apartments with locked doors. Outside, Hamas lurks in ambush. In Ukraine, friends look on in amazement as bombs rain down on Israel. They look at the mangled Re'im festival and remember Boutcha. That was less than two years ago. They fight against evil and hope for the future. For their leader, too, the new Judaism lies in the promise of freedom.
But little by little, our future is shrinking. We are witnessing an attack on the dream we dared to live. Be it in Israel, the EU or Ukraine. 
Despots and terrorists destroy human bodies. But human dreams are destroyed by others – the indifferent neighbours, the discreet silencers, the cold relativists and all those, many of them, who are too comfortable where they are to face the new reality seriously. The schoolchildren who want to draw a final line under the past (50% of German schoolchildren), the young people who celebrate rape by waving Palestinian flags in our streets, the smug Greek political economist who sits in Berlin and refuses to condemn terror.
Israeli soldiers recover decapitated Jewish babies from looted houses. It's not just on Berlin's Sonnenallee that people take to the streets to celebrate the perpetrators. The dream is crumbling. It is bursting like the wounds of the victims, because the attacks on human beings are unbearable and because empathy for human beings is so quickly exhausted in those around us. What remains is at best a shrug of the shoulders, at worst understanding for the rapists. The frustration of a life without a future was simply too great in Gaza. Just as the frustration of NATO expansion was too much for the Kremlin.
This combination of violence and inaction in the face of violence is the deadly mix of our times. For us, the people affected, it means the feeling that, just in case, no one will come to our aid, or worse, that the attack on us will soon be transformed into a justified or even legitimate attack. This combination is the explosive that shatters dreams and destroys the future. And it affects not only Jews, but all those who dare to dream of democracy and reflexivity.
We must face this attack on our dream as Jews. And as Christians and Muslims, as non-believers. As democrats of all backgrounds and parties. Our time has come, the time of thoughtful men and women who will not give up without a fight. To say this clearly, without rhetoric, must be the watchword of this time.
Without rhetoric, because we know that any minimisation of risk endangers our democracies, and as thoughtful men and women, because we see these dangers not only in the terrorists and the enemies of democracy and Judaism, but also in our own petty comfort, in our desire to make our own democracy less complex, in our language that catalogues and dehumanises others, as we ourselves have been dehumanised for millennia. We must be prepared to defend the Enlightenment without abandoning it.
We must separate the wheat from the chaff. Our intelligence and law enforcement agencies must provide security. They must do so with pride and confidence because they do so within the rule of law and because they do so for the rule of law. And we must all remain united and show solidarity. Because only if we can rely on our strength can we still save our democracies, our right to dream. The dream can only be preserved if it is cherished and protected. And this is where we are all called upon. Everyone, whoever they are and wherever they come from. Let's be clear: the attack did not take place in the Negev desert. The attack did not happen in Boutcha. The attack was not against others. The attack was on all of us! The attack was on our dream.
---
Sergey Lagodinsky
Sergey Lagodinsky, né en 1975 en Russie, est arrivé en Allemagne en 1993 en tant que réfugié juif de contingent. Avocat et journaliste, il siège au Parlement européen pour les Verts allemands et est vice-président de la commission des affaires juridiques. Il est le seul juif parmi les parlementaires allemands au niveau fédéral et européen.