This week, K. presents testimonies from Gazans about their lives under Hamas rule. Presented in animated form to protect the anonymity of the individuals, these videos were created by the Center for Peace Communications[1] who carry out projects that highlight the real conditions of civilians in the Middle East. In the case of Gaza, they show a daily life of oppression, warmongering coercion and Islamism. Democratically elected in 2007, Hamas immediately took control of civil society, leaving the population trapped between the severity of the Israeli blockade and the actions of the Palestinian government in power, which does not hesitate to use it for these destructive purposes, arrogating to itself with impunity the importance of the Palestinian cause and what is just in itself.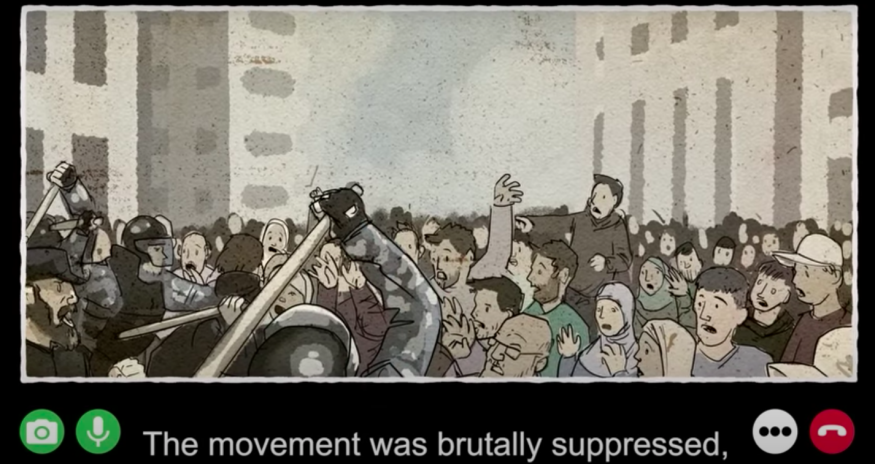 As the Israeli army enters Gaza to fight the forces of Hamas, our eyes turn to the lives of Palestinian civilians who have been sacrificed since the beginning of this war. Let us not deceive ourselves. The savage murder of every Israeli that the Hamas killers found in their path on 7 October had this aim: to ruthlessly expose to death the entire Palestinian people of Gaza, trapped as they are in the war. And above all, subjugated as they have been for many years, under the yoke of a power that has systematically eliminated all its opponents. Among all the mistakes that the Israeli government and the international community can be accused of, they have never bothered to look at and listen to the voices coming from this very society. For while Hamas is certainly not exogenous to it, neither is it what society can be reduced to, and this is what must now be clear in everyone's minds. At this moment of intensified war, it is most important to understand the real social and historical situation of this population. The Palestinian resistance against Hamas in Gaza may have been crushed and persecuted, but it never died out. Nor has it ever abandoned its affirmation of the justice of the Palestinian cause, aimed at building a state whose citizens would be political actors in their own right and not subjects of an authoritarian power driven solely by the desire to destroy Israel. This contradiction has always been lived and suffered by the entire population, a population that is currently deeply wounded and whose preservation must remain the principle of the war on Palestinian territory that Israel is now waging.
It is this testimony, necessary for the consciousness that emerges so painfully from the din of war, that we wanted to make heard by publishing the three animated videos of the "Whispered in Gaza" project presented here.
Majed" recalls how the Gaza border protests of 2018-2019 began. "It started with peaceful protest camps," he says, "but Hamas decided to exploit them." Gazans were told that they would "break the blockade" if they marched on the border, he remembers, "but the people were broken instead."
Though the March of Return protests were initiated at first by grassroots activists, Hamas was quick to direct them to its own ends. As Gazan political analyst Reham Owda told CNN, "Nothing happens here without Hamas's approval and it approves of the demonstrations." In an interview, Hamas politburo member Salah al-Bardawil boasted that at least 50 of those killed during the protests were Hamas members. Another Hamas stalwart, Khalil Al-Haya, later claimed that Hamas was "at the heart" of the protests.
In co-opting the March of Return, Hamas sought to refashion it as a platform for violent cross-border attacks. Hamas's takeover of the march troubled its organizer, Gazan activist Ahmed Abu Artema, who told the Financial Times, "The idea was ours, but the real situation is another story." Hamas, rather than ordinary Gazans, was the biggest beneficiary of the protests. As Al-Azhar University professor Mkhaimar Abusada put it, "They are the number one winners of this march — they didn't have to come up with the idea, but they were immediately able to appropriate it." This left regular Gazans to suffer the consequences. As Majed observes, "four hundred people were martyred, and nobody knows for what."
In 2019, approximately 1,000 Gazans waged street demonstrations under the banner "We Want to Live." "Rana" was one of them. "The people wanted its voice to be heard by the government," she explains. "But as I'm sure you saw, Hamas responded with the opposite of what we had hoped … with every kind of brutality."
Indeed, it was reported at the time that police fired at demonstrators, stormed houses around the strip, and arrested anyone suspected of involvement. An Amnesty International official observed, "The crackdown on freedom of expression and the use of torture in Gaza has reached alarming new levels … we have seen shocking human rights violations carried out by Hamas security forces against peaceful protesters, journalists, and rights workers."
Among the victims was Momen al-Natour, a protest organizer. Hamas stormed his house and threatened his parents, demanding his whereabouts. Both he and others arrested were "tortured, humiliated, and accused of collaborating with Israel and the PA," al-Natour said. The violence, he added, shows that "this is a partisan police fight to protect Hamas, not the people." Another protest leader whose family faced similar mistreatment told AP, "Hamas doesn't want us to scream. It wants us to die in silence."
Everywhere "Iyad" turns in Gaza, he finds Hamas's leaders looking back at him. Their portraits and slogans cover the walls and alleys. "Is this a city, or a military barracks?" he asks. When his fellow Gazans declare themselves "ready for martyrdom," he hears only despair. "Ok, Palestine is our cause, and a just one," he says, "but that doesn't mean you should keep getting Palestinians killed, again and again, without any result."
While open criticism of Hamas's war footing remains rare, a closer look shows a population questioning the wisdom of perpetual conflict. Last August, on a rare occasion when Hamas refrained from firing rockets into Israel during a period of escalation, 68 per cent of Gazans supported the decision. Gazan mother Halima Jundiya, noting the trauma her children still endure from the 2014 conflict, told the New York Times, "We don't want Hamas to fire rockets. We don't want another war." Another 2022 poll found that 53 percent of Gazans agree at least somewhat that "Hamas should stop calling for Israel's destruction, and instead accept a permanent two-state solution based on the 1967 borders."
Indications of Gazan discomfort with Hamas ideology and policies, which have been growing, are likely understated, given the recent finding that 62 percent of Gazans believe "people in the Strip cannot criticize Hamas' authorities without fear." One dissenter, speaking with +972 Magazine on the condition of anonymity, said, "We've been through four horrific wars and accomplished nothing."
All the videos from the Whispered in Gaza project are available here.
---
The Editors
Notes
| | |
| --- | --- |
| 1 | A US-based non-profit organisation that supports the efforts of the region's media, schools and places of worship to promote a culture of peace. Its teams include Diaspora Jews, Americans and Europeans, natives of Syria, Iraq, Tunisia… |